June 13th 2017
Originally BMW started making 'R60/6' motorcycle in 1973, until 1976. it was a light-weight, high-performance vehicle compared to its predecessor the '/5'. this bike weighed 463 lbs coming off the production line, but, with modifications by vintage steele, it has been slimmed down to slightly over 350 lbs.
vintage steele was very excited about this build as the client, josh bernbaum, lives in the same town as the shop, based in brattleboro, vermont. the workshop was thrilled that this was their first local build, and the fact that it would be seen around town was a great marketing tool. the client had owned sport bikes in the past, partly because he lives miles out on a dirt road. josh knew the scrambler-style was the direction he wanted to go — he wanted this bike to be functional, practical, comprehensible, and look like a piece of rolling art.
The US-based garage turns the rear section from the original bolt-on-tail style to a solid welded-on rear piece, in order to change the suspension's angle, and modernize the suspension with öhlins shocks. it also decides to replace the faulty drum front brake by installing modern 2011 suzuki 'GSXR 600' inverted forks with duel front brembo brakes. keeping the client's concerns of reliability in its mind, it replaces the entire electrical system with modern aftermarket non-german made components and a LED headlight. losing the speedometer drive from installing the 'GSXR' front end forced it to make the instrument cluster by hand. part of that process pushed it to scour the internet for the perfect GPS driven speedometer, and tachometer.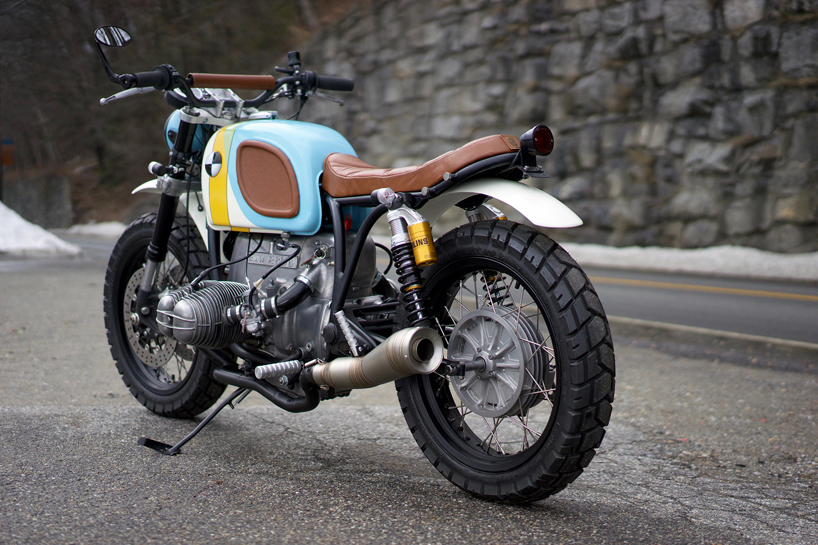 Josh bernbaum is a glassblower professionally and talks about how he integrates his craft into the such design,'since we set out to do a bike that's as unique as possible, and since I make blown glass professionally, owner of vintage steele, josh steele, recommended I start thinking about a way to incorporate some glass into the bike's design. I put it off for a while but then the thought came to mind to do something for a custom emblem. at first we ground, polished, and glued clear glass I made by hand to some stock BMW roundels to go on the sides of the tank, but after trying one other design option we all agreed that the second idea looked just a bit extra special, and unusual and went with that.'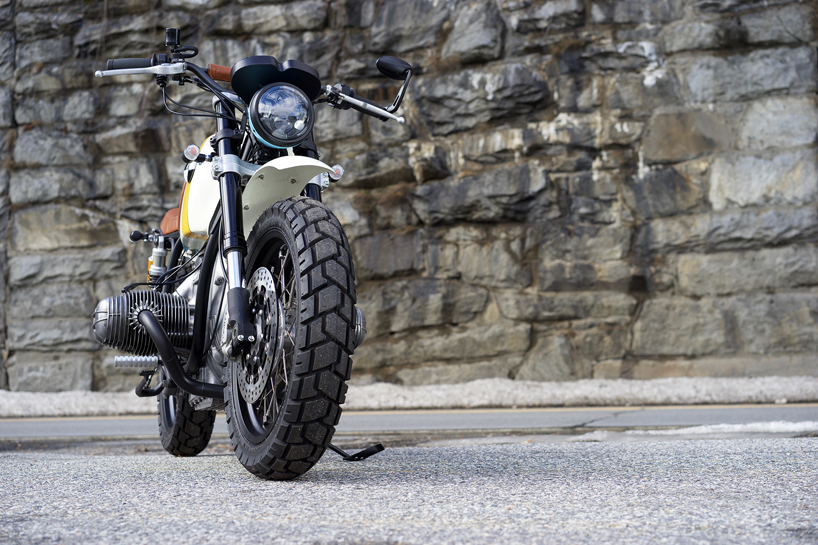 he continues, 'it consists of the same clear glass 'domes' I made that I then adhered to black and white sheet glass pieces behind it. everyone knows it's a BMW already, so we all thought this design we went with that only subtly referenced the traditional BMW logo but in black and white and clear glass was the way to go. this was the last piece of the puzzle, and I think we all really feel this personalizes and customizes the bike to a degree even greater than what we already had achieved with the paint scheme, leather, and other design choices.'