November 10th 2016
Article Courtesy MotorSport.com By: Anne Proffit, Special contributor
The National Hot Rod Association could hardly have dreamt of a more perfect title fight for Motorcycle honors. Heading into this weekend's Finals in Pomona, Calif., the top three are covered by just three points, as Anne Proffit previews.
At the close of the 18-race regular season in NHRA's Mello Yello Drag Racing Series, the battle for 2016's Pro Stock Motorcycle championship looked to be between the Vance & Hines Harley-Davidson Screamin' Eagle team of 5-time and reigning titleholder Andrew Hines and his three-time title-winning teammate Eddie Krawiec.
Sure, Angelle Sampey (another three-time champ on her Star Racing Buell) and Jerry Savoie's White Alligator Racing [WAR] Suzuki team were keeping the Harleys honest and hounding the duo a bit, but that was it.
Now, with five Countdown to the Championship playoff races complete and only the Auto Club NHRA Finals on the Auto Club Raceway in Pomona remaining, Hines and Krawiec are tied in the points (2509 points each) and Savoie is hounding them, just three points behind. The five Countdown races have produced two wins for Krawiec, one for Chip Ellis and two for Savoie, an alligator farmer from Cut Off, Louisiana.
Pro Stock Motorcycle has come a ways in the past few years and Hines and Krawiec have a lot of competition these days. With Sampey's return to the class and Savoie's rise over the past six seasons, the competitive level is more fierce than it was even three years ago.
"There's a better level of riding, some better bikes and many weekends when the rider carries the bike or the bike carries the rider," Krawiec notes.
What has kept the Vance & Hines teammate at the forefront? Hines, the second-generation racer who is integral to the design, construction and testing of the Harley-Davidson motorcycle says: "We have a great group of guys here in our shop; they bust their butts to make sure that we can get the parts we need in a hurry.
"We've got our machine shop here [in Brownsburg, Ind.] making parts that we're going to fly out to Pomona with us. It's just a great group of guys that makes sure we have perfect equipment every time."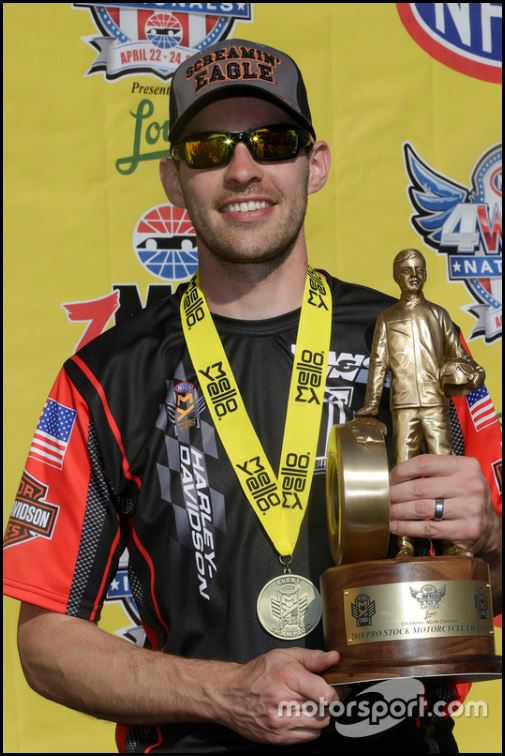 That seems to also be the case for Savoie, 57, who came close to taking the title in 2015 but red-lit [left before the 'Christmas tree' turned green] in the penultimate race in Las Vegas. He learned from that and changed some of his personal habits to become a stronger rider.
"I learned a lot about using my eyes and my reaction to sunlight," he states, "learning the amount of time needed to focus with my sunglasses on and with the visor down.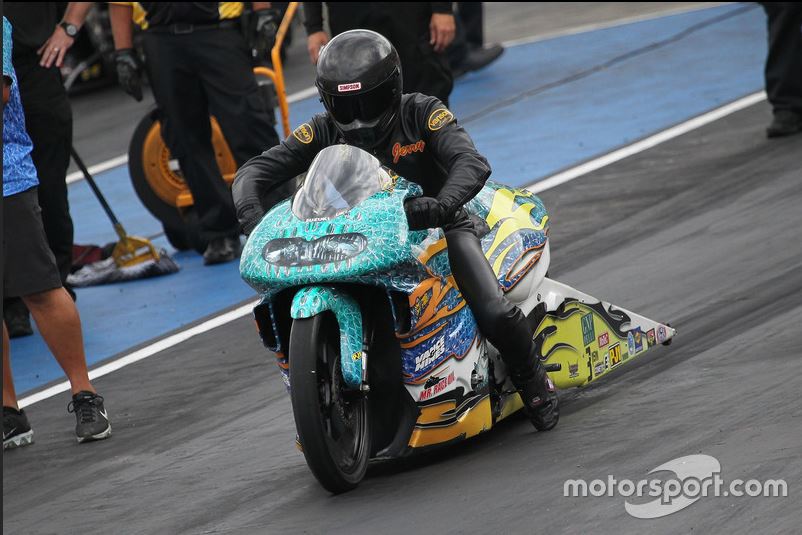 "I was [also] starving myself so I didn't put on weight on race day but now things I do and things I'm eating are making a difference."
In Las Vegas 10 days ago, Savoie earned the maximum number of points, 130, any competitor can earn at an NHRA Mello Yello drag race. He was the No. 1 qualifier in every single one of the four sessions, rode the fastest bike down the quarter-mile in all but the second round of eliminations and beat Hines to earn his second Wally trophy of the season and sixth of his six-year career.
The Suzuki motorcycle this team uses was originally developed by Don Schumacher Racing and, as Savoie and Kulungian honed the bike still further, they elected to use electronic fuel injection (EFI) rather than the carburetors that most in the Suzuki camp utilize.
Like any single-entry program, it took time to get the motorcycle and its engine working properly. But using a Vance & Hines Suzuki engine, Savoie and Kulungian wound their way through each 16-race season, getting better as time went on. It took until 2014 for WAR to win its first race (at St. Louis) but then team fortunes took off, winning three races in 2015 and nearly taking the title.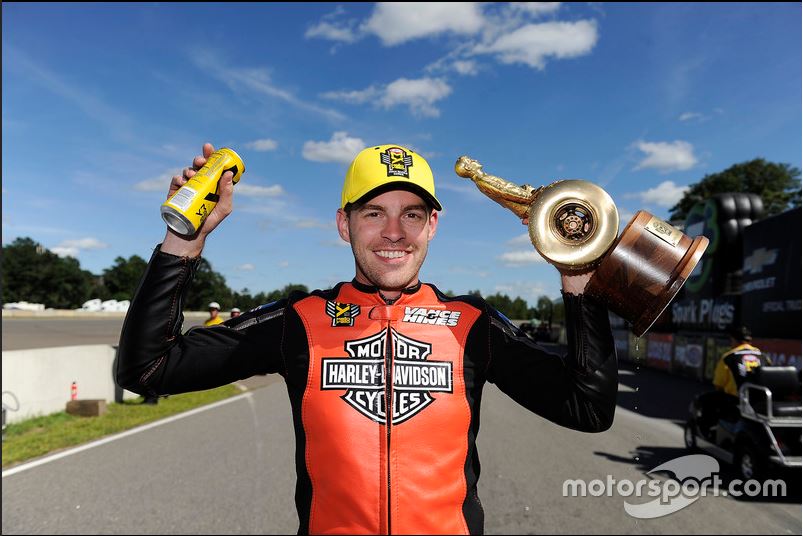 "We wanted to do this program six or seven years ago; Jerry bought all the stuff and hired the right people," said Tim Kulungian, Savoie's crew chief for the past four years. "We focus on every single point possible, maximize everything we've got and work on our package night and day."
Next year WAR will becomes a two-bike squad, adding 2010 Pro Stock Motorcycle champion LE Tonglet, his father and brother, so what are the chances it will be a team of two champions?
"I'm not going in with the pressure that I've got to win," says Savoie of Pomona's final. "If we win, great, if not, we'll be fine."
Krawiec suggests he'll remain similarly equivocal, should a Vance & Hines customer beat the works Harley Davidsons.
"We have great customers that support our program and believe in us," he states, "and we give them the best products we can, 100 percent."